Welcome to ODMP K9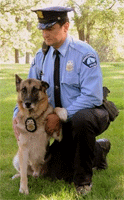 The Officer Down Memorial Page is furthering its mission of honoring all fallen law enforcement officers with the announcement of its newest memorial program: ODMP K9.
ODMP K9 honors the hundreds of police canines that have been killed in the line of duty serving alongside America's law enforcement officers. These loyal companions have given their lives to ensure their handlers, fellow officers, and citizens stay safe.
ODMP researchers are currently compiling details on fallen canines through history. Our current list is incomplete, so we are calling on all visitors to provide new or updated details about any police canine that has been killed in the line of duty in the United States by using our submission form.
Support ODMP K9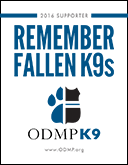 Like all of ODMP's programs, ODMP K9 is supported by the generous donations of its visitors and law enforcement organizations.
Proudly display your "Remember Fallen K9s" decal to:
Identify yourself as an ODMP supporter to local law enforcement
Honor hundreds of fallen police canines
Inform officers & citizens of canine deaths nationwide
Fill out the form to the left to order your decals today.
Law Enforcement United
ODMP K9 is made possible, in part, through the support of Law Enforcement United. LEU hosts an annual 3-day, 240-mile bike ride during Police Week. Over 400 officers ride from two states and meet in Washington DC to raise funds for ODMP and C.O.P.S.

Join the ride »